What's the meaning of life? Is it really earning money and establishing a career? Or is it something else that you're on this planet? Something like the persue of pure joy or living life intensely squeezing all juice out of it, like Ben says.
Explorer Ben Saunder one day at the age of 26 decided to cross the Northpole.. by foot! dragging 180 of provisions through tempertures of -75 degrees for over 10 weeks. What made him undertake this seemingly "useless" expedition? What drives someoneone to get out and expose himself the most harsh and difficult challenges of it's kind?
In this TED talk he explains why and why he will it even more extreme again very soon. Follow this ultimate Storytraveler: http://www.bensaunders.com
In 2004, Ben Saunders became the youngest person ever to ski solo to the North Pole. In 2013, he'll set out on another record-breaking expedition, this time to be the first to walk from the coast of Antarctica to the South Pole, and back again (source Ted.com)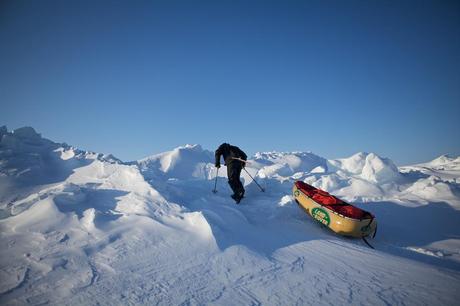 Bio Ben Saunders
Although most of the planet's surface was mapped long ago, there's still a place for explorers in the modern world. And Ben Saunders' stories of arctic exploration — as impressive for their technical ingenuity as their derring-do — are decidedly modern. In 2004, at age 26, he skied solo to the North Pole, updating his blog each day of the trip. Humble and self-effacing, Saunders is an explorer of limits, whether it's how far a human can be pushed physically and psychologically, or how technology works hundreds of miles from civilization. His message is one of inspiration, empowerment and boundless potential.
He urges audiences to consider carefully how to spend the "tiny amount of time we each have on this planet." Saunders is also a powerful advocate for the natural world. He's seen first-hand the effects of climate change, and his expeditions are raising awareness for sustainable solutions.
Being the youngest person to ski solo to the North Pole did not satiate Saunders' urge to explore and push the boundaries. In 2008, he attempted to break the speed record for a solo walk to the North Pole; however, his journey was ended abruptly both in 2008 and again in 2010 due to equipment failure. This trek is planned to resume once again in the spring of 2011, a 478-mile expedition from Ward Hunt Island, Canada to the North Pole. Also in his adventure cue is SOUTH, an unprecedented trek across Antarctica and back. At 1,800 miles, it will be the longest unsupported polar journey of all time (think 69 back-to-back marathons).
"Humbly framed as the ambitious undertakings of an ardent athlete, [Ben's treks offer] visceral first-hand accounts of just how much things are changing in the Arctic — the 'barometer of global climate change.'"
source TED.com